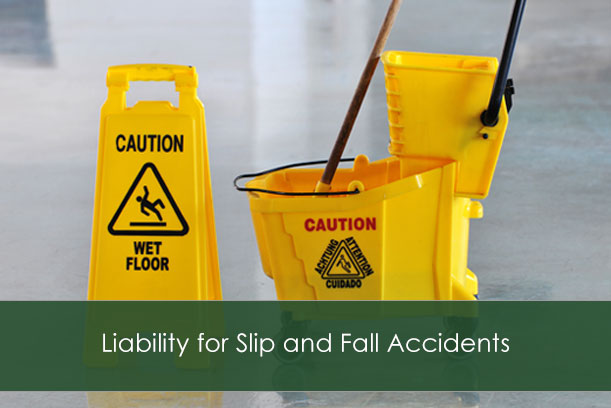 When you enter a business or place of residence you have the expectation to leave in the same condition that you entered.
Slip and fall accidents are a serious concern and can cause serious injury. Businesses and individuals are obligated to provide a reasonably safe area to others. If an incident does occur and you are injured, you'll need to know if it was caused by the other person's negligence or if it was something that was a normal part of life.
Providing a Safe Premises
Businesses and individuals that open their property up to the public have an obligation to provide a safe environment to their guests. They need to take reasonable precautions to ensure the safety of anyone on their property.
This means they cannot ignore problems that are obvious safety concerns and must take steps to fix and warn people of potential injuries. When people know about problems before they encounter them they can decide whether they want to take that risk or not.
The owner of a property that has unsafe conditions could be liable for injuries that occur on the property. If they are liable they will have to compensate the victim for injuries.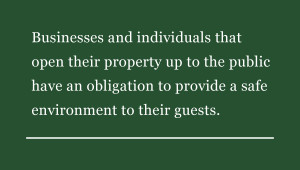 Act Within Reason
A factor that affects who is liable for an injury after a slip and fall is whether the injured person was acting within reason and with care. If an alert person would've noticed the danger and avoided it, or was acting recklessly or was in the area without a reason, then the chances of the building owner being liable is low.
While the owner has an obligation to provide a safe area, you have an obligation to act within reason and with reasonable care. The property owner will not be liable for an injury that was a result of reckless behavior.
When it comes to determining who is liable and whether or not you have a case concerning your personal injury, it is best to consult a lawyer. To get an idea of whether or not you may have a case, ask yourself the following questions:
Did the owner of the property cause the danger?
Did the owner of the property know about the danger or was the danger obvious to a reasonable person and did the owner refuse to fix it?
Did the object that caused your injury have a legitimate reason to be in the place that you were injured?
Were there any signs indicating the spot could be dangerous?
Were you distracted or doing something else when you were injured?
Would an alert person have avoided the danger?
There are many factors that go into determining who is liable in situations and a lawyer can help you figure out whether or not you have a claim.
---
This site is intended purely as a resource guide for educational and informational purposes and is not intended to provide specific legal advice. Any information provided on this site should not be used as a substitute for competent legal advice from a professional attorney in your state. The use and receipt of the information offered on this site is not intended to create, nor does it create, an attorney-client relationship. The content of an e-mail sent to Scott T. Gegenheimer Attorney at Law or any of its attorneys will not create an attorney-client relationship and will not be treated as confidential.